Fideuá: The Spanish Noodle Dish Which Resembles Paella.
Fideuá
is a
Spanish noodle seafood dish in which noodles replace the rice...
Sitting in a good sofrito for a few hours before the final preparation means that this dish will take only minutes to cook, unlike the paella which it resembles. This means that fish and shellfish such as clams, mussels, prawns and so on will be lightly and perfectly cooked, rather than slightly rubbery as they sometimes are in paella where chicken drumsticks and Spanish hot chorizo sausage are also added. Fideuá is one of the great dishes of Spain. Various regions lay claim to the this dish, but
Valencia
probably wins.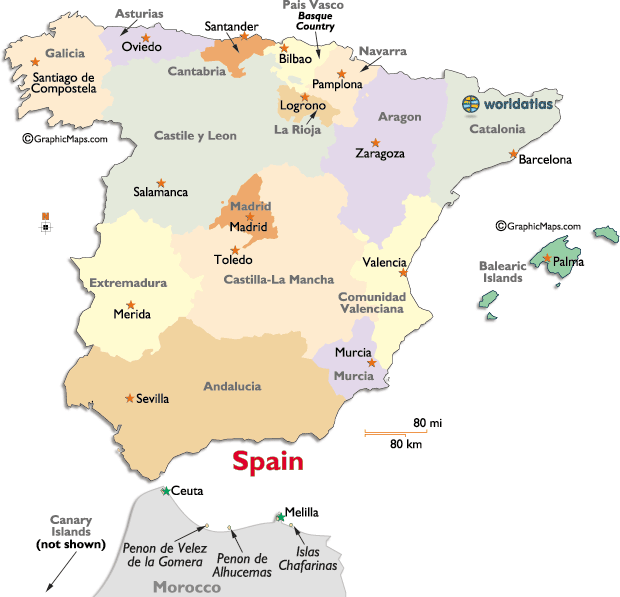 Courtesy of :
http://www.worldatlas.com/webimage/countrys/europe/lgcolor/esregions.htm
Ingredients:
Serves 10
1.9kg bacalao fish whole, boiled in 4 cm of water with one or two bay leaves and some salt.
500 gr frozen mussel-meat if you wish. Retain any liquid when thawed.
500 gr frozen mussels on a half shell retaining any liquid when thawed.
1 kg fresh Clams (Vongole) boiled for max 5 minutes in a little water to open. Here also discard all closed ones. Retain any liquid obtained.
500 gr frozen calamari rings. Here also retain any liquid obtained when thawed.
1 kg fresh medium sized shrimp shell and heads taken off keeping the little tails. Be sure to take off the sand along the backs of the shrimp.
10 huge gambas (big shrimp) cut the shells along the back with a pair of scissors to make them easy to be cleaned when eaten, and to take off the sand etc. One per guest.
Some imitation crab meat sticks as a topping. (These need no cooking)
2 sweet red peppers (not the bell type) veined and cut in strips.
24 cherry tomatoes cut in 4.
200 ml of dry white wine.
0,50 gr of saffron dissolved in hot fish broth.
1 Piment d'Espelette without the seeds, cut in thin strips.
1 Tbsp smoked paprika.
70 gr tomato concentrate dissolved in hot fish broth.
1 small onion finely chopped.
3-4 big cloves of garlic finely chopped.
1 kg egg noodles.
¼ cup olive oil.
Salt and pepper to taste. \
2 Bay leaves.
Unless you are a super-duper speedy Gonzales experienced cook like Sonia Peronaci I definitely suggest you start from the day before if you intend to feed your guests at 3 pm the next day.
Stelio